Blogs for the 'Tennesse Flood 2010' Category
As 2010 has delivered a continuous assault of extreme weather disasters around the Globe – the heat wave in Russia, the floods in Pakistan, China, Europe, and America, the continuing "1000 year" drought in Australia – the state of Tennessee was just hit with its second round of significant flooding in just four months.
The Tennessee Deluge of 2010 was grossly underreported by US media, despite being one of the most significant rainstorms ever recorded in the U.S. During this thousand year deluge a staggering 13.57 inches of rain was reported at Nashville international Airport in just 36 hours, with some areas of the state receiving up to 19 inches of rain. The extreme weather event was the result of several fronts stalling over the region.
This week another extreme deluge occurred in middle Tennessee marking a return to this disturbing trend that is becoming all too frequent in this new world of man-made climate change. On Thursday, August 19 NOAA reported up to 11 inches of rain in a 48 hour period in some parts of middle Tennessee with significant flooding occurring at multiple locations across the state. Again, this extreme rainfall was the result of a stalling front.
An I-report on CNN sent this video from Cookeville Tennessee where flash flooding occurred Wednesday morning. The report stated:
"Floodwaters blocked roads, washed out bridges and submerged homes in water." The I reporter said he had "never seen flooding so bad in the entire 15 years he's lived there. 'We have people here who have lost everything,'
More coverage on the CNN website went on to state;
"Some areas, like the town of Red Boiling Springs, were pounded with as much as eight inches of rain in a 12-hour stretch Wednesday."
On Wednesday I was caught driving through this deluge from Pegram to Bellevue TN along the Harpeth River on Highway 70, an area that received significant flooding and damage during the flood of May 1. From my car window I could see that the river was at least 6 to 8 feet higher than its normal level.
On a Thursday morning local news broadcast a reporter commented that if it had rained again today, downtown Nashville was in danger of flooding again. Damage assessments across the state have yet to be tallied.
The US media as a whole has yet to begin linking extreme weather events to man-made climate change, but earlier this week the New York Times might have made history with their front page story: In Weather Chaos, a Case for Global Warming. Let's hope that this is the beginning of some much needed mainstream media coverage on the imminent danger that now confronts us.
A couple of weeks after the epic flood that hit Tennessee on May 1st and 2nd, I was contacted by Franklin, TN resident, Leah Charter, about a flood relief photo documentary book project she was embarking on. Leah had seen a few of my flood photos posted online and requested permission to use them in her project and of course I was more than happy to participate. Over the following weeks Leah worked tirelessly on this project and now, just barely 3 months later, we are proud to announce that the first phase of this project is now complete as we have just run our first printing.
The Tennessee Flood 2010 photo documentary book is a visual depiction of one of the most underreported extreme weather disasters to ever hit U.S. This not-for-profit work is a collaboration of many victims, survivors, spectators and those first in response for the unified purpose of raising proceeds for the victims. It is the mission of all involved to expose this historic flood as the monster it was and the aftermath which it left in its wake.
With lives lost and forever changed, homes damaged or washed away and animals swept away in rushing waters, we feel that in offering this photo documentary that we will make a difference in the lives of those who suffered the most by giving the proceeds of this project to the organizations which can best serve their needs, as well as to bring an awareness of this flood to the world.
To purchase a copy of the book or learn more about this project please visit the books website http://tnflood2010relief.com/
All proceeds will go to the Community Foundation of Middle Tennessee, the Association for the Protection against Cruelty to Animals, and Otter Creek Church Reachout program for Tent City residents.
The images below are the book cover and one of the inside spreads.
I was recently contacted by another Tennessean regarding a relief project called the TN Flood 2010 Relief Book. This particular project involves the production of a photo documentary book about the Tennessee flood which will be sold to raise funds for flood victims. The woman who started the project, Nashville resident Leah Charter, requested permission to use one of my photos in this book. Upon learning about this project, I decided to offer her the use of some other photos I took of the flood disaster, and she is choosing several more to include in this historical works. The book is on target to be finished and available by the end of June and will be available for purchase online through the above link. This is a great cause and I urge you all to add the relief book as a friend to your Facebook page and help spread the word.
To help put the flood aftermath in perspective, I would like to mention a few things I noticed yesterday, June 5th, when I took a drive from Pegram to Bellevue. Of the two houses at the entrance to my development that were flooded, one is still empty. Around the corner, a little ways down Highway 70, three of the four businesses that were damaged by the floods have yet to reopen, the local community bank among them. Further down 70, several other homes that were affected by the floods still remain empty. The precarious hillslide on the side of 249 deems that road dangerously passable. Another hillslide on 70 has caused a telephone pole to now be leaning over the road, on the verge of collapse. There is  sign on the Shoney's in Bellevue that says they are relocating and won't be reopening at this location.
This disaster happened five weeks ago, yet so many buildings and so much infrastructure are still in major disrepair. Where did all these families go? What happened to these business owners, and what will be the future of their much-needed businesses? When will these dangerous roads be addressed? While some great strides have been made, there is still a long road ahead. I thank you all for your support, and urge everyone to continue spreading the word.
In my flood research for the Maddow Blog, I came across the website, climateprogress.org. I e-mailed the site's editor, Dr. Joseph Romm with some thoughts and questions about the Tennessee flood and the result was some dialogue in which he encouraged me to submit a report on the disaster to post on his site, which just happens to be the most widely read climate related website in the world.The following article is it as it appeared on the climate progress site.
The Tennessee deluge of 2010: Nashville's 'Katrina' and the dawn of the superflood
One of the epic extreme weather events in U.S. recorded history devastated one of America's great cities this month.   But the status quo media has barely told the story of Nashville's Katrina (let alone its link to human-caused climate change).
Since the great Tennessee deluge of 2010 foreshadows the shape of things to come for many of the world's great cities if we stay anywhere near our current emissions path, I'm going to begin a multipart series on it.  Uber-meteorologist Dr. Jeff Masters and I have already touched on the link to warming already (see AP: Calling deadly Tennessee superstorm an "unprecedented rain event" did "not capture the magnitude"), and I'll have more scientific analysis on that next week.  What follows is some straightforward — but stunning — reporting on the disaster by guest blogger Eric Normand, a Tennessee-based writer and musician.
The rain began falling on the morning of Saturday, May 1st, 2010, and by the time it finished, approximately 36 hours later; it had dumped a record rainfall of between 12 and 20 inches across Middle and Western Tennessee, devastating 52 of Tennessee's 95 counties. Rivers that normally spanned 100 feet across swelled to a half-mile or more, flooding cities, towns, and roadways, washing away homes and bridges, destroying businesses and infrastructure, and leaving thousands homeless. At least 33 people died across Tennessee, Mississippi, and Kentucky; some while trapped in cars on flooding interstates, others who were swept away from flooding homes by the raging waters, while thousands more were left stranded in remote communities without power or communication for days. Water plants were decimated, the Grand Ole' Opry and many other historic buildings and icons damaged or destroyed, and more than $1.9 billion of damage has been sustained to the private sector in Nashville alone.
And where was our national media in all of this? During the flood, and in the days that followed, mainstream news media like CNN, MSNBC, and Fox, provided minimal coverage of this disaster, a disaster that is likely to be the costliest non-hurricane water related disaster in American history. Our plight was dwarfed by the Gulf oil spill and the New York City car bomber which, while being important stories, were not the only stories. In spite of the American press corps residing under a blanket of ineptitude, all levels of government, combined with an army of volunteers, quickly began to mobilize.
"The President was on the phone to me before the sun came up practically on Monday morning" stated Tennessee Governor Phil Bredesen. FEMA administrator Craig Fugate, along with Bredesen and Nashville Mayor Karl Dean, toured flooded areas later in the day. By Tuesday, several counties had been declared federal disaster areas which began to allocate funding for the relief effort (the number of counties declared federal disaster areas would eventually reach 42). By Wednesday, almost 300 members of the Tennessee National Guard were assisting in rescue and relief efforts and the Red Cross was present early on as well.
In the center of this disaster were the people of Tennessee who showed great strength and unity from the onset, when thousands of volunteers showed up at multiple locations; filling sandbags, assisting with boat rescues, and helping with other relief efforts. Community centers and churches across the state became havens for families who lost homes. Schools became water distribution centers. Some citizens even took it upon themselves to rent excavation equipment to clear roads, as the county road crews were overwhelmed. When officials announced the need to conserve water, water usage almost immediately decreased.
While all this was going on, the minimal media depiction was that of a flood that primarily affected Nashville. And while a small percentage of America was hearing about a flood in Music City; 20,000 people in Hickman County, some 50 miles south of the capital, were completely cut off and isolated and without power or communication for almost a week. Much of their community was devastated and many roads and bridges were washed out, with months of repairs still ahead. On Highway 7 in Maury County, an area the size of three football fields collapsed. The city of Clarksville, some 80 miles to the northwest of the capital, was also particularly hard hit, with dozens of small businesses on Riverside Drive under 4 to 5 feet of water. An AT&T call center was flooded, rendering 1400 people out of work indefinitely, and 2 weeks after the disaster, one neighborhood of homes was still under water. In fact this storm system also killed four in Arkansas, and flooded many parts of Mississippi and Kentucky, where it caused statewide damage estimated at more than $30 million. All of this was accompanied by, essentially, no national media coverage to speak of.
This is the worst disaster to hit the state of Tennessee since the Civil War, and all these statistics and facts don't even begin to paint the picture of the loss and suffering had by many. For some, the disaster will remain a part of their lives for a long time to come. Thousands of damaged or destroyed homes and businesses were not in flood zones, leaving many with mortgages on structures that no longer exist, and without insurance money to rebuild. Thousands have also lost their jobs and livelihoods. Communities and infrastructure have been damaged or destroyed over an area that spans thousands of square miles, with the totality of destruction still yet unknown.
So while the people of Tennessee are rebuilding, most of the nation remains unaware, and most will unlikely ever know the whole story. Tennesseans will survive, rebuild, and emerge from this wreckage, but for many, life will never be the same. Natural disasters affect everybody as we are all interconnected. After Katrina, thousands of hurricane refugees relocated to neighboring states to restart their lives, Tennessee among them, and this catastrophe will inevitably have its own unique set of social and economic impacts that will be far-reaching as well.
Even though I didn't lose any loved ones or personal property in this flood, what I have lost, is piece of mind. Three weeks after this epic storm, a rainstorm fell in middle Tennessee, causing flood warnings in five counties. While it didn't cause widespread flooding, it put us all on edge. I used to like rainy days, their once mellow mood almost comforting. Now I fear them. As a nation, we must get our collective heads out of the sand and better understand this world we live in. The absence of this monumental event from our MSM was irresponsible and reckless, leaving us all vulnerable to the next extreme precipitation event. We may not be able to change the weather patterns, but we can at least prepare for what they can do. And if our media could begin to cover all of the pertinent stories in this new dawn of the superflood, we just might stand a chance.
I have put up a slide show that  shows some of the damage in my community. Most of these pictures were taken within 10 miles of my home in Pegram, TN. You can also read more about the flood at my blog.
Guest Blogger Eric Normand is a Tennessee-based writer and musician. Originally from New England, where he attended the Berklee College of Music, he is currently authoring his first book "The Nashville Musician's Survival Guide."
Originally posted May 18th, 2010
For everyone that lived through the Tennessee flood of 2010, the flood is still here. While the water has receded from most areas, in general, the state is still a mess. Every day I continue to hear new stories about people and families affected by the flood, and some have still not received any help. In the absence of any real national media coverage, I have been making my own attempts to help this disaster gain further attention, and yesterday I may have caught a good break when the Rachel Maddow show on MSNBC put my reporting and pictures on their website.
Last week I submitted some op-ed pieces to the nation's largest newspapers, and yesterday, I'm not sure if this is a coincidence or not, the Washington Post published an article that draws on some of the points from my letter. I also believe the fact I was able to have some of my writings and pictures posted on the MSNBC website is significant. I have been writing about this disaster since it began, and by steadily chipping away at it, I now have a contact with somebody at MSNBC who wants to help the story gain attention. I plan to continue my efforts to help inform the rest of the world of our plight in the weeks to come, and I urge everyone to do the same. I think it's extremely important that the message is put forth that the state of Tennessee, not just Nashville, has been devastated by this flood.
Please follow this link to my report on the MSNBC website and leave a comment under it. This will increase the likelihood that Rachel will discuss this disaster on one of her upcoming shows.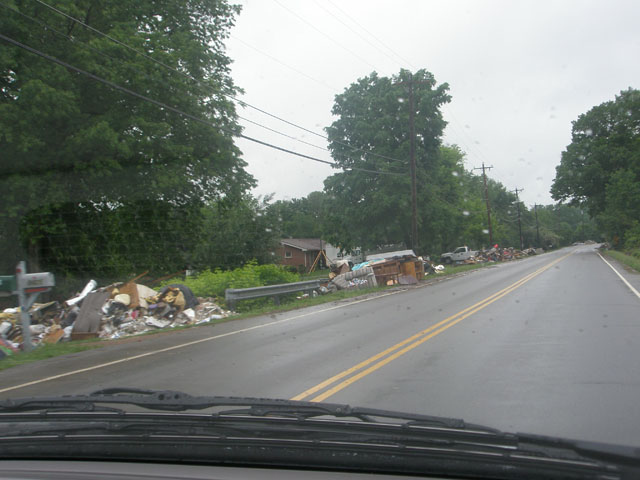 Originally posted May 12th, 2010
If you've been following my blog over the past week and a half, I'm sure you're aware of what's happened here in Tennessee. While I consider myself extremely lucky to not have lost anything in this flood, the experience of it all has, nevertheless, been exhausting. Being trapped in our home without power for three days, seeing the raging waters come within a half-mile of my home, watching the totality of this horrifying event on the local news in the days afterwards, and then observing the devastation in my community firsthand. And I have it easy. Some of my friends have lost all their musical equipment that was being stored at the Soundcheck rehearsal facility. For others across the state of Tennessee, losses go well beyond musical equipment.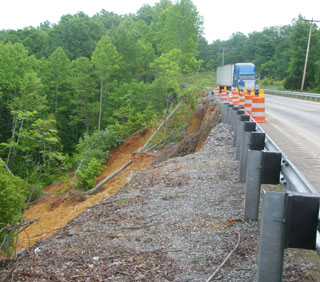 Even though my family, home, or possessions are intact, being on the cusp of a disaster of this magnitude will inevitably change a person in some ways. We had several days of sunshine, thankfully, in the days immediately after the rain stopped. But then, rain was forecast for the weekend. Even though it was only predicted to be an inch or so, the thought of any rain at all, is now disturbing. I have awoken a few times in the middle of the night to visions of the brown murky floodwaters. You can't drive very far in middle Tennessee without seeing flood damaged buildings, roads, and other ominous reminders. It's been difficult to focus on many daily routines and tasks, but I am fighting my way back, and it is slowly getting better.
The main goal of this blog, initially, was to focus on the music business and other music related topics, as I am a musician by trade. But it's been a battle to get my mind out of the storm, back to the business of music, and back to my nearly completed book project "The Nashville Musician's Survival Guide". It now seems so ironic that my book is about what it takes for a musician to survive the music business of Nashville, and now Nashville itself is faced with a plight for its own survival.
I will say that writing this blog over the past week and a half has been therapeutic for me. Kind of my own rebuilding process. I'm still thoroughly disappointed in the national media, and feel like we've been robbed. First we were raped and pillaged by the storm itself, and then to add insult to injury, ignored by the national media, as if our dire situation was insignificant. In the absence of a media based on real, Edward R. Murrow style journalism, I think it is now extremely important for all concerned citizens to help spread pertinent news stories that aren't getting told. I have submitted my article "We Are Tennessee; Surviving the Flood of 2010" to several local and national print publications in an attempt for this story to gain further attention. And I will continue to write a few more blogs about our situation, as the struggle for Tennessee to rebuild will go on long after this story fades from the news.
In the days and weeks to come, I will also be working towards getting my head back into music, as well as tackling the seemingly impossible task of completing a book that is 95% done (it feels like the last 5% will drag on longer than the health care debate did). I will finish this book, as I feel compelled to do so, and know it will help many musicians. Of course, I will now have to add one more chapter about flood survival. In the meantime, I will continue working on getting back to normal.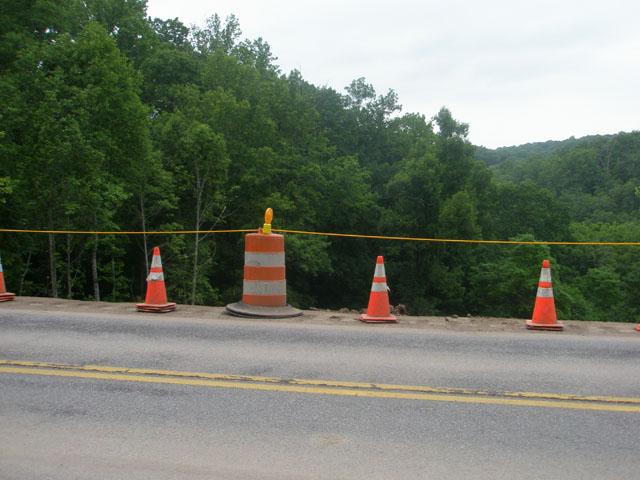 Originally posted May 6th, 2010
It's now Tuesday morning, May 4th, and the local news is announcing that while the Cumberland River in downtown Nashville has crested with the waters now receding, Ashland city and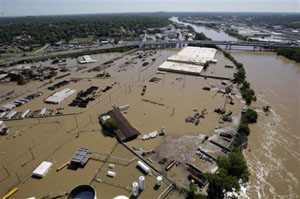 Clarksville are still at flood stage. Several city blocks in downtown Nashville are now without power as basement vaults are flooded. A caller on the morning news explains that their location, Pinnacle Hill in Kingston Springs, is a hilltop community that is still inaccessible, and that there are many families running out of food, with some in need of medical attention. There is water in the basement of the Opry House and the Country Music Hall Of Fame, both of which contain irreplaceable archives and memorabilia. Another news story shows a business owner standing in front of a sea of tractor-trailers trucks, his livelihood of 31 trucks and hundreds of trailers underwater and destroyed. Other video footage reveals roadways with damage that would otherwise be associated with an earthquake. The Opryland hotel, which accounts for 1/5 of the available hotel rooms in Nashville, announces it will be closed for months, inevitably leaving hundreds, if not thousands jobless. Hard-hit communities across the state share similar tragic tales ranging from loss of life to power outages, impassable roadways to pending water shortages, and homes and businesses either being damaged, destroyed, or completely washed away.
Amidst the disaster are a couple of rays of hope. The weather forecast predicts clear sunny days for the rest of the week, with only a slight chance of rain on Friday. Calls for volunteers are also being answered with thousands of people chipping in to help with the recovery process. A televised press conference in the middle of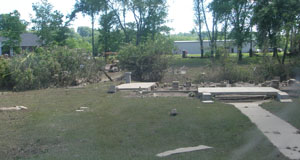 the day presents a steady stream of officials, each making announcements pertaining to specific areas of disaster relief. While the officials did provide much useful information, evidence of an overall lack of preparedness, organization, and communication is revealed, as the website they direct citizens to for disaster relief, Tennessee.gov, had not been updated since Sunday afternoon, and contained outdated information. One city official announced that floodwaters are unsafe and may contain raw sewerage, chemicals, and unknown dangerous objects, and to stay out of the water. A short while later another news story showed children playing in the water, and an adult attempting to water ski through floodwaters behind a pickup truck.
Upon calling a few friends that lived in neighboring communities, I learned the fate of a few other areas less covered by the news. One friend in Kingston Springs informed me that five or six houses had been completely washed away on his street. Another told his tale of driving home from a friend's house with his three-year-old daughter on Saturday night, when a foot of water came rushing across the road and swept his vehicle to the side, stalling his vehicle. After 20 harrowing moments stuck in the rushing water, they were able to return to their friends house where they stayed until Tuesday, at which point they discovered a mile and a half hike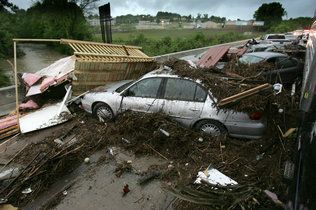 was now required to get to their now in accessible home in White Bluff which sat intact right next to a neighbor's house that was completely washed away.
A little later, a news story announced that the army corps of engineers was releasing water from the areas dams at strategic intervals. Throughout the day, I periodically switched from local news to national media stations such as CNN, MSNBC, Fox, and other national news programs, and was thoroughly disturbed to see the Tennessee flood getting little to no coverage. By mid afternoon, the CNN website used a small portion of this event as the lead story. Barely scratching the surface, the info put forth implied this storm mainly affected Nashville, when the reality is that it has impacted hundreds of thousands of people over thousands of square miles  With the loss of life is in the dozens, the economic and infrastructure damage , however, will likely be in the billions, as this storm system has produced catastrophic damage not only across much of Tennessee, but in the neighboring states of Mississippi, Arkansas, and Kentucky.
This monumental 500 to 1000 year event, came with little warning. Unlike Hurricane Katrina, which first made its introduction days in advance by way of big scary radar images on radar, this storm looked like a typical round of heavy rain and severe weather. No one could have known the system was going to stall right over Tennessee. Nevertheless, it did, dumping between 12 and 20 inches of rain, 28% of our annual rainfall, in less than 48 hours. And while it doesn't have the dramatic buildup, high death toll, and scenes of looting, this event is potentially as ever far-reaching in terms of human suffering due to a natural disaster. While the local news of middle Tennessee has provided much coverage so far, most of this coverage has been for Davidson County, with minimal attention to the rest of Tennessee. The national news media has completely missed this epic disaster, with a few slight exceptions. While the oil slick off the gulf of Mexico, and the New York City car bomber, are certainly important stories, they are not the only stories. In the age of 24 hour news media coverage, there is no excuse for this kind of ineptitude and shortsightedness. Where are all the journalists hiding, for they have missed the quiet Katrina.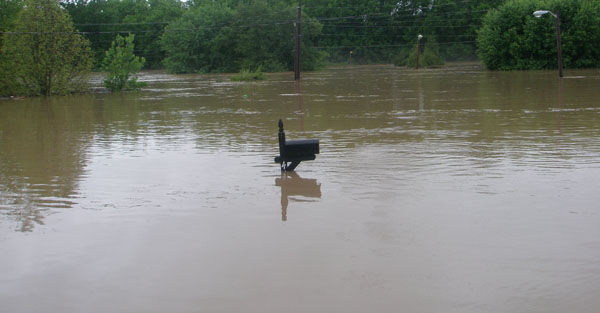 Originally posted May 10th, 2010
Yesterday, my wife and I took a drive to Percy Warner Park, one of our favorite spots in middle Tennessee. The Warner Parks are over 3000 acres of exceptionally maintained nature reserves, with a nature center, miles of hiking trails, playgrounds, and picnic areas. Unfortunately, neither the Percy Warner Park nor the adjacent Edwin Warner Park escaped the wrath of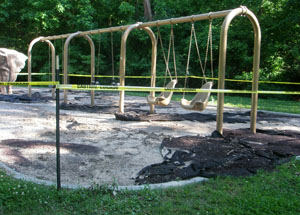 this terrible flood.
As we drove into the Highway 100 entrance, the first thing we noticed was the road to the main parking lot was blocked. We were encouraged to see 20 or so cars parked alongside  the entrance road, and several families picnicking in the immediate area, attempting to return to some kind of normalcy after such a horrific week. Upon walking past the barrier and down the main entrance road, we noticed caution tape around the playground which had been damaged by the waters. A little further down the paved road, we came to the open sided shed at the beginning of the trailhead, upon which a sign had been placed notifying us that the hiking trails are now closed due to dangerous conditions. A few feet beyond the shed we could see large sections of trail washed away leaving a twisted maze of root structures now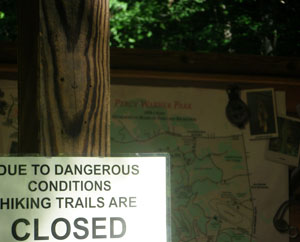 exposed. A little ways up one of the paved roads we saw damaged trees, a few random piles of sticks and twigs, and gullys carved by rushing water along the sides of the road.
We couldn't help but feel a little bit selfish in our newfound sadness. As so many families and individuals lost homes, businesses, and even loved ones, our thoughts of remorse over damaged hiking trails and playgrounds seems insignificant. But the Percy Warner Parks, like many parks throughout the state, represent a certain faction of daily life for many in middle Tennessee, and their preservation is a part of our heritage, so it was still painful to see the destruction. I know the parks will be fixed in time, but I'm sure their priority is lower, understandably, than the dire need to rebuild lives, homes, businesses, infrastructure, and communities across the state.
On a brighter note, the Steeplechase was held in the equestrian center area of the park this past Saturday, and thousands turned out for this annual event. While some have criticized the event for still moving forward, stating people shouldn't be out having fun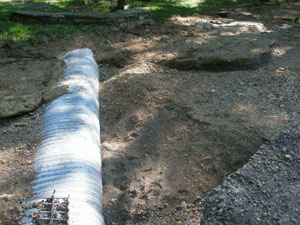 when so much cleanup is still needed, these critics were obviously unaware that the proceeds of this years steeplechase were being donated to relief efforts. It also helped many to begin to feel a little normal again.
The funny thing is, that the park, in reality, is fine. The trees are still growing, the streams are still flowing, and the birds are still singing, and they will continue doing so. It is our access that has been cut off. In the meantime, there are still some areas of the park that can be enjoyed, and I suppose we should at least be thankful for that. It was still a sad day at the park.
To see some more photos of park damage, follow this link to where another Tennessean has posted a photo journal of what he saw shortly after the flood.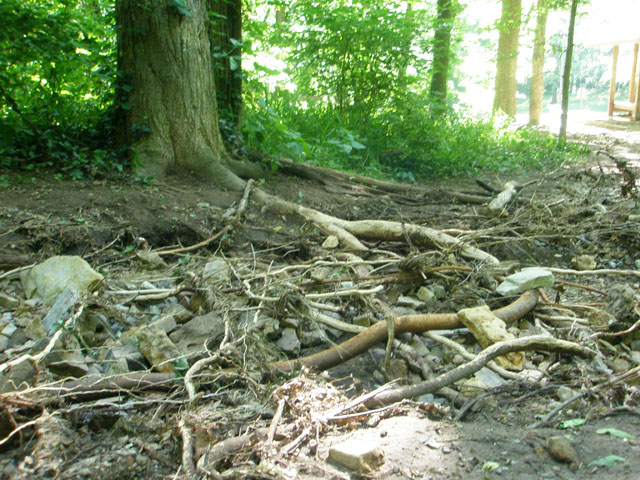 Originally posted May 9th, 2010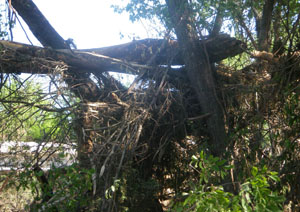 It's now Sunday, eight days into this new world of a waterlogged state of Tennessee. And although the Gulf oil spill is still the lead story in the national media, about to decimate ecosystems and local fishing industries across the Gulf, I just read an article that suggested the floodwaters in Tennessee could impact the Gulf fishing industry as well. Local fishermen in Gulf communities are fearing that as the floodwaters from the Cumberland River empty into the Mississippi River, the inherent rushing waters will push a large portion of fish into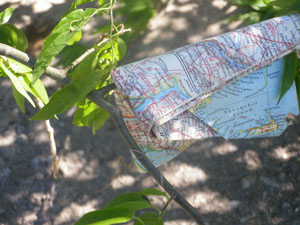 the oil. So far, most of my writings about this disaster, as well as the writings of others, has been about the effect that this flood has had on the people of Tennessee including the loss of life, the destruction of homes, businesses, and infrastructure. But what kind of effect will the flood have on nature, ecosystems, wildlife, and the environment at large? Only time will tell.
In the meantime, we will continue cleaning up, rebuilding, and moving ahead. I urge you all to help continue spreading the news of this disaster, as the minimal national media coverage we have received, will likely fade in the weeks to come.
If you would like to learn more about what is happening here, there are a series of well written articles that can be found at The Huffington Post. A telling photo journal can be viewed at The Boston Globe. And the following YouTube video also sends a strong message.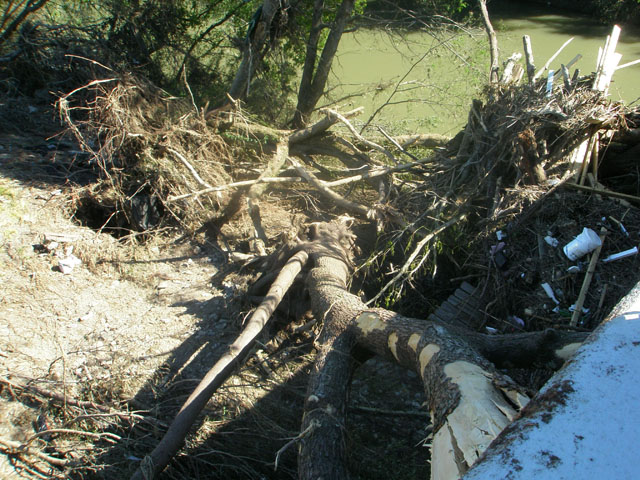 Originally posted on May 8th, 2010
It's now Saturday, May 8th, one week into this life changing event, and I find myself feeling still off balance, having difficulty focusing on some of life's normal routines. The images of an ocean of brown murky water coming within a half-mile of our house, cars submerged on interstate lakes, and neighborhood houses underwater continue to work their way towards the front of my mind.
Last night I worked in a nightclub in Bellevue, a gig I've played countless times before. As a musician, I had been looking forward to a night of music with friends, hoping and expecting it would help return some of us to some kind of normalcy. It was the first time I'd seen these friends since before the flood, and it was pretty hard to talk about anything other than the weeks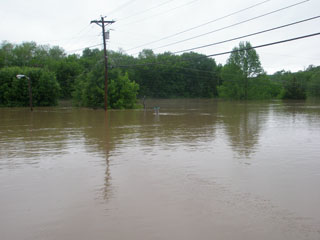 catastrophic events.
My friend Nick from Bellevue was home Saturday when the rain first began, and lost electricity sometime that night. On Sunday, still without electricity, he was unaware of what was going on, and decided to drive down to see an afternoon movie. As he approached the movie theater, he was horrified when he saw the entire building submerged in three or four feet of water. My friend Danny from Kingston Springs, lives on a Hill, and while his family and home are fine, some nearby houses had been washed away. He had also learned that the Harpeth River near his house, normally spanning 115 feet across, had swelled to a staggering 2900 feet in width. Another friend, Doug from Bellevue, said that his home was fine, but other homes nearby were damaged or destroyed. Doug works as a plumber, and revealed that he's already been fixing water damaged boilers, and while he believes many units can be saved, he is hearing about some profiteers claiming all water damaged boilers need to be replaced. Yet another friend, Pam, also from Bellevue, told us of working at the now filled to capacity Microtel Inn, where her duties now include shuttling flood refugees back and forth from the hotel to local stores to buy bare essentials. Everybody I spoke to had been touched by this event in one way or another, and we are all feeling a deep sense of connection, as this new common ground we will forever now share.
We started playing music around 7 PM, and the experience was almost surreal. I remember playing songs, yet feeling completely disconnected from the activity I was partaking in, almost as if I was watching myself from the other side of the room. The notes were all coming out right, but my mind was 1000 miles away, struggling to push back the images of horror that occupied my mind. The first 50 minute set seemed to happen in slow motion, with little reaction from the room full of somber patrons, eating their dinners and talking quietly. The night felt heavy and sluggish, and what is usually a warm-up set for our typically spirited group, felt more like a funeral march. Although the next set was more of the same, we were able to shake off some of this weight for the final part of the night, the music finally cutting through this dense air of disaster.
On the local news this morning, I learned that Hickman County, 50 miles southwest of Nashville, has been hit exceptionally hard by this flood, as over 100 bridges throughout the county have been crippled or destroyed. "The town of Centreville, and much of Hickman County, for four days, was an island unto itself, with no radio stations, no telephone service, AT&T or cellular, it was all out" stated Centreville's mayor, Bob Bond. The county is still in emergency response mode, and thousands of feet of water line have been destroyed, rendering drinking water for the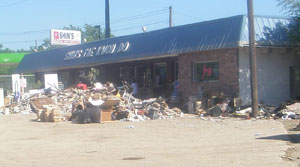 county's 20,000 residents unsafe for the next 2 to 4 months.
Another news story told of concern for some of Davidson county's immigrant communities, where many are still residing in water drenched apartment complexes. Although officials are trying to get them to relocate to shelters, many won't leave, as they will lose their jobs if they aren't at their usual place of residence for daily transportation pickups.
These kinds of stories are expanding exponentially, and although my family and I haven't been injured or lost any physical possessions, we have been forever changed. We feel exposed and vulnerable, with a strange state of uncertainty now deeply embedded in our psyche. Many others we have spoken to have shared similar sentiments. It's almost as if we were raped, held down and pinned to the wall by a mysterious powerful force for which there was no defense. I can't imagine the feelings held by those who have it much worse, losing homes, businesses, everything, some even losing their loved ones, and my heart goes out to them.
I know things will improve slowly over time, and hopefully there will be a return to some kind of normalcy in the weeks and months ahead. But it is likely to be a new kind of normalcy, because so much has changed. For once you have lived through an event of this magnitude, seeing the devastation firsthand, and hearing the stories of those suffering, you are forever changed. The time is now for the people of Tennessee to be strong, hold your heads up, and move forward with strength, conviction and unity. I believe the human spirit is strong, and if we open our hearts and minds, we can, and will survive.